Arguably the most popular "fun food" off the grill is the kabob. No matter what you throw on the skewer, it's probably going to come out tasty … Shark Bite Kabobs.
When dealing with shark meat, many grilling aficionados choose to cook it as it would tuna or other fish with thick cuts … as steak. Cubing the shark and giving it a good marinate in the fridge can make the next kabob session a hit.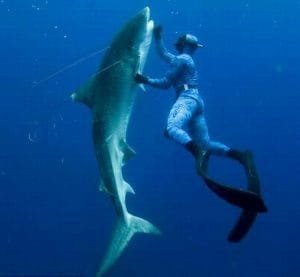 Shark Bite Kabobs Marinade
1 cup apple cider vinegar
1 cup vegetable oil
1 cup soy sauce
1 cup pineapple juice
¼ cup Worcestershire sauce
1-2 tablespoons oregano
1 tablespoon ground thyme
2-3 tablespoons rosemary leaves
1 tablespoon chopped garlic
1 large sliced onion
Place shark in large plastic bag. Add vinegar, oil, soy, Worcestershire sauce and onion. Add dry ingredients. Close plastic bag removing as much air as possible. Place in refrigerator for four hours, flipping two or three times.
What you'll need to get cooking
1 onion
1 red bell pepper
2 cups pineapple slices
1-2 pounds marinated shark, cubed
Cut the onion in quarters, then peel apart the layers. Cut the bell pepper into 1 1/2 inch squares. Cut the pineapple slices into quarters. Cut the fish into 1 1/2 inch cubes. Thread the shark, onions, and peppers (alternating them) on two 12-inch or four 6-inch skewers. Place the skewers on a very hot grill, turning them every minute or so until cooked on all sides. Remove when the fish is opaque and flakes easily with a fork.
Serve the Shark Bite Kabobs immediately.
Happy Grilling!