The summer grilling season is still months away; however, it is not too early to look at new grilling methods, like to marinate beef, that help provide some protection against cancer compounds formed during grilling.
J. Scott Smith, Kansas State professor of food chemistry working with the Food Safety Consortium, has found that adding spices to burgers and steaks dramatically reduces carcinogenic compounds known as heterocyclic amines, or HCA.
"HCAs in foods have been in the spotlight for many years," Smith said. "They are carcinogenic and mutagenic compounds found at parts per billion levels in cooked fish and meats."
There is growing consumer interest in HCA formation in cooked muscle-food products and potential health risk. Consuming dietary carcinogens has been associated with different cancers in humans, and last year one of the HCAs was shown to cause prostate cancer in rats.
There is even evidence that other chemicals formed during cooking or grilling can enhance the onset of type II diabetes.
Marinate beef
Previous research has shown that grilled beef is a major source of dietary HCAs when cooked at 375 degrees F (190.5 degrees C) and above.
"Cooking meats with natural antioxidants decreases or eliminates HCAs on meat," Smith said.
In recent years, consumers have responded favorably to natural food products, including natural spices such as rosemary that are rich in antioxidants.
Smith's research group began experimenting with marinades containing herbs and spices − notably those from the mint family, such as basil, mint, rosemary, sage, savory, marjoram, oregano, and thyme. Most of these herbs are rich in three compounds − carnosic acid, carnosol, and rosmarinic acid that are potent antioxidants.
"We believe that addition of various substances to the meat before cooking may reduce the carcinogenic HCAs," Smith said. "Marinating steak before grilling is a practical way to reduce HCA contents of even well-done beef for many consumers."
Smith's group measured the HCAs in grilled round steaks. They found that to marinate beef with a commercial product containing rosemary and thyme, reduced the HCA level in the cooked product by 87 percent, which correlated to the amount of antioxidants present in the marinades. The marinade containing rosemary and thyme had the greatest effect on reducing HCAs, but two other marinades with different herb seasonings were tested and found to be almost as effective. Consumers also can add the herbs/spices directly to products such as ground beef.
Smith's research group also has evaluated different types of rosemary extracts. They found that some almost totally eliminate HCA formation in fried hamburgers − even at higher temperatures − dramatically reducing potential risk. They are evaluating other spices, such as basil, sage, thyme, and oregano. Other possibilities for research include parsley, fennel, paprika, nutmeg, cloves, and cinnamon.
(Kansas State University, Food Science Institute, 2008)
Steak: Jerk Marinade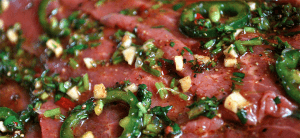 Caribbean marinades substantially reduce the risk of harmful carcinogens when grilling beef.
2 limes, zested and juiced
2 habanero peppers, stemmed
2 tablespoons brown sugar
3 tablespoons vegetable oil
1 tablespoon minced ginger
1 teaspoon ground allspice
2 teaspoons chopped fresh thyme
2 green onions, sliced
2 cloves peeled garlic
1/4 teaspoon kosher salt
1/2 teaspoon fresh ground black pepper
Add all ingredients in a food processor or blender and purée. Place steak in a large plastic bag and add the marinade. Squeeze the bag and remove the air and seal the bag. Be sure the marinade coats the steak thoroughly.
Refrigerate and marinate the steak 2 to 4 hours. Before grilling, remove from refrigerator and let meat come to room temperature.