Many moons ago while experimenting with rubs and spices for chicken we accidentally created the Cajun-Caked Yardbird recipe. And after one bite, we found, it was like fireworks in your mouth!
Essentially, it's a ton of chicken coated with olive oil and then liberally coated with our Cajun rub. It looks like batter-dipped chicken but it's not. It's just a thick coating of fiery spices, and as a result, are sure to make one holler, "Aiyeeeeeeeeee, cher!"
You can use any part of the chicken for this recipe — breast, legs, thighs and/or wings with skin. The skin is going to crisp up with the caked rub, consequently setting off firecrackers on your taste buds.
The Cajun Cake
Olive oil
2 teaspoon garlic powder
1 teaspoon onion powder
1 teaspoon chipotle chili powder
1 teaspoon cayenne pepper powder
¼ teaspoon sea salt
½ teaspoon ground cumin
½ teaspoon sweet paprika
1 teaspoon dried thyme
1 teaspoon dried oregano
1 teaspoon coarse black pepper
½ teaspoon crushed red pepper
Time to Grill
Preheat grill to 375 degrees Fahrenheit.
In a large bowl, add your chicken pieces and coat liberally with light olive oil.
Combine dry spices. Add to chicken in large bowl and toss to coat, rubbing seasonings on both sides of the chicken, including under the skin, if desired.
Place chicken on indirect side of grill and cook 20-25 minutes, then flip.
Cook for 15-20 more minutes or until chicken internal temperature is a minimum 165 degrees Fahrenheit.
Remove chicken from the grill and serve immediately with Mexican Street Corn Salad (see below).
One of our favorite sides with spicy proteins off the grill is corn salad. This version of Mexican Street Corn Salad is at the top of our list for go-to sides.
Grillax Street Corn Salad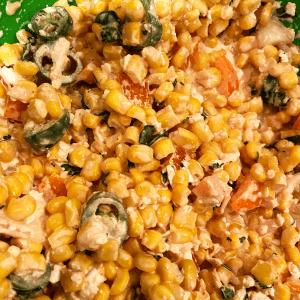 6 ears sweet corn
2 tablespoons mayonnaise
3 tablespoons sour cream
½ teaspoon chipotle chili powder
3 tablespoons lime juice, freshly squeezed
½ teaspoon sea salt
¼ teaspoon ground black pepper
2 medium-sized jalapeños, seeded/sliced into thin rings
¼ cup red onion, finely chopped
1 red bell pepper, finely chopped
3 tablespoons fresh cilantro, chopped – save some to use as garnish
½ cup crumbled cotija cheese
Prep the corn
Fold the husk and silk of each corn ear back and discard. Lightly brush corn on the cub with oil.
Grill corn, turning occasionally until it is charred in spots. Keep an eye on it as this happens rather quickly.
Cut the corn off the cob and place the corn in a large bowl. Set aside to cool.
Mexican Corn Dressing
Mix together mayonnaise, sour cream, chili powder, lime juice, salt and pepper in a small bowl.
Put it all together
Pour the corn dressing over the corn. Add in jalapeño, onion, bell pepper and cilantro. Give it a gentle toss. Taste and adjust seasoning, if needed.
Top off the corn salad with cotija cheese and garnish with cilantro.
Happy Grilling!