Babka, or Bábovka, is a sweet yeast cake or a potato pie that has been made for centuries in many eastern European countries. It's one of those sweet breads that is outstanding as a tasty dessert, but predominantly because it looks like a difficult dish to master … but it's not.
In the U.S., babka makes a regular appearance at holiday pot lucks, as it can be the talk of the table among holiday dessert snobs. The layers of filling and yeast create a marbling effect and is hard to resist when reaching for a sweet treat. One may think babka is too difficult to prepare at home, or only trained patisserie chefs can pull it off, but that's just not true. The professionals in the Grillax Test Kitchen have found a way to create this decadent sweet bread off the grill, and it's so easy. All it takes is patience (and time.)
Babka grilling tips
Before we break into the recipe for our babka, let's make sure your grill is ready to go for baking. Here are a few tips to get your grill prepared for baking, focusing on minimizing adding those flavors of proteins that have been grilled, smoked or seared on your grill.
Make sure your grate is clean. Residue from previous grill sessions can burn off while baking and throw in some funky flavors with breads.
Clean out the entire grill kettle or cabinet of all ash, and rinse it down. Drippings can get caught in ash and create 'flavor bombs' once heated back up, which can ruin the flavor of breads.
If possible, use hardwood, or lump hardwood charcoal when creating your coals. We've found this doesn't overpower the breads with funky flavor from sawdust or other ingredients.
Do not use lighter fluid on your charcoal before grilling breads. You'll be amazed at how long the fluid can affect the flavor of delicate dishes like breads.
Indirect grilling can help create a more even baking environment for bread. Direct heat can cause the bottom of bread to get burned quickly.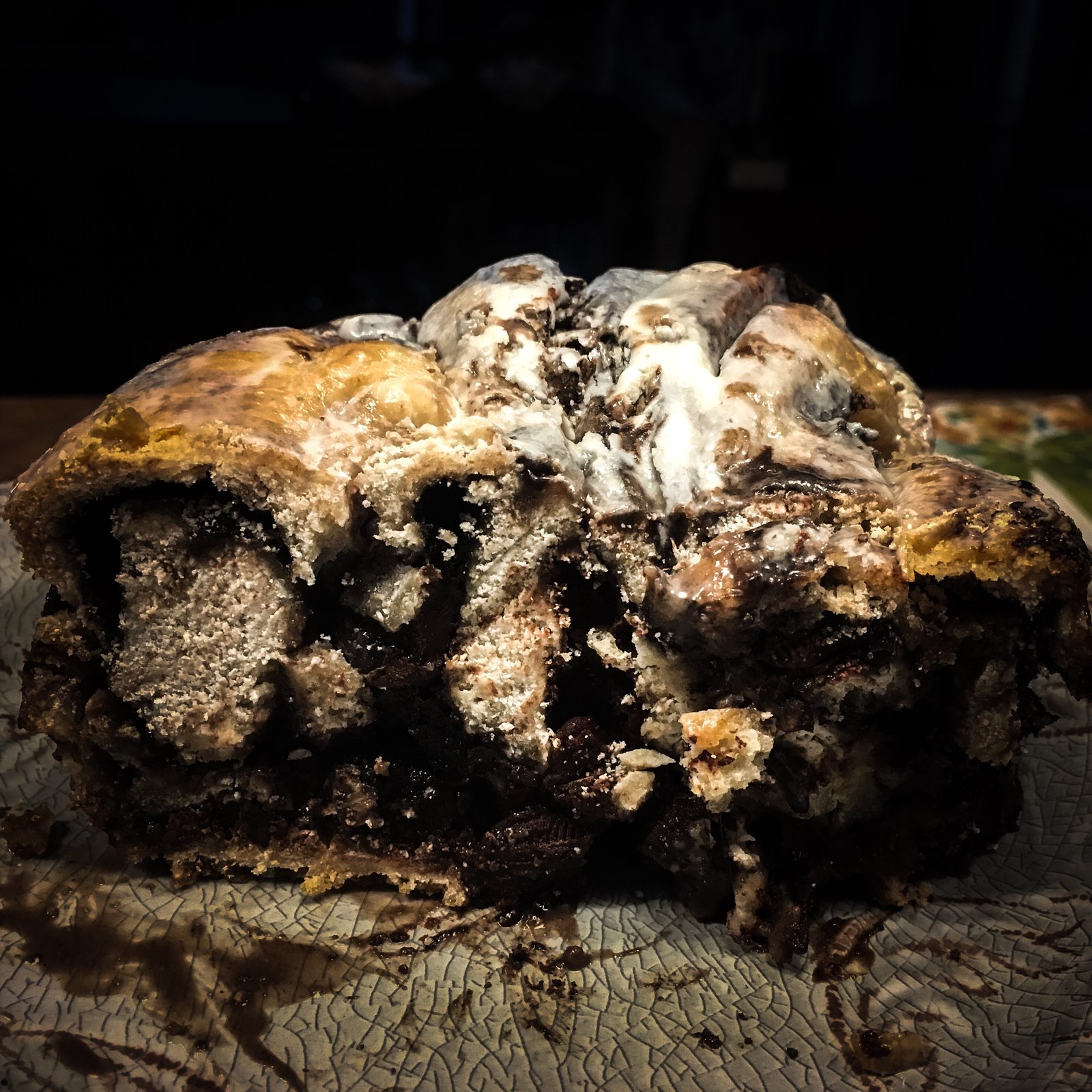 Indirect grilling can help create a more even baking environment for bread. Direct heat can cause the bottom of bread to get burned quickly.
DOH!
4 cups all-purpose flour
1/2 cup sugar
2-1/2 teaspoons instant yeast
1 teaspoon sea salt
3 eggs, ambient temperature
1 egg yolk, ambient temperature
1/2 cup whole milk, ambient temperature
1 teaspoon vanilla extract
10 Tbsp. unsalted butter, ambient temperature
Dark Chocolate Spread
1/2 cup unsalted butter, ambient temperature
1/2 cup sugar
1/3 cup Hershey's Special Dark powder
1/4 tsp cinnamon
8 ounces 70-percent or higher Cacao chocolate, chopped
Grilling Babka
For the dough, stir flour, sugar, yeast, and salt together in the bowl of an electric mixer. Add eggs, yolk, milk, and vanilla using a dough hook. Mix on low speed until mixture comes together, scraping down the bowl and hook as needed. On low speed, add butter, 1 tablespoon at a time, until incorporated. Increase speed to medium and knead with the dough hook for about 10 minutes. The dough should  pull away from the sides of the bowl. Place the dough in an oiled bowl, turning the dough, so it is evenly coated. Cover with plastic wrap and refrigerate overnight. The next day, remove dough from refrigerator while preparing for the filling and baking. Butter two 9-inch loaf pans and line with parchment paper, cutting to fit with some overhang on both the long and short sides. Butter the bottom piece of parchment so that the top piece sticks. Line a cookie sheet with waxed paper. For the spread, place butter, sugar, special dark chocolate powder and cinnamon in a mixing bowl and stir until combined. Divide dough in half. On a floured surface, roll one dough half into a rectangle about 10 x 12-14 inches. The 10-inch side should be the closest to you. Spread half of the chocolate filling over the rolled dough. Sprinkle with half of the chopped cacao. Starting with the end closest to you, roll the dough fairly tightly. Place seam side down on the cookie sheet. Repeat with remaining dough and filling. Place cookie sheet with your two rolls in a freezer for about 15 minutes. Remove the rolled dough from the freezer. Working one roll at a time, use a large knife (or heavy duty kitchen shears) to cut lengthwise down the center. Twist each roll, then braid the two pieces together, pinching the ends and place in one of the prepared pans. Repeat with the second roll. Cover the pans with plastic wrap and let rise at room temperature for about two hours. During the last 20 minutes of rising, heat your grill to 350-370 degrees Fahrenheit.
Time to grill
Make the sugar syrup by combining 1 cup sugar, 1 teaspoon almond extract and 1 cup water in a pot. Bring to a boil over medium heat, stirring constantly. Let the mixture boil for a few minutes, then remove from heat and allow to cool. Once the rising time is finished, add the dough to the grill on the indirect side for 40–50 minutes, or until 190 degrees Fahrenheit. If you want to experiment with smoke, don't overdo it. We suggest using a light flavor point, such as apple or cherry chips, no more than one-quarter cup. Just sprinkle the chips over the coals and let them do their work. Some charcoals have wood chips in them, or offer specific cut lump charcoal. Be careful when grilling to make sure your outer-most edges of your babka don't burn or get too crisp. This can happen if the bread is too close to the heat source. If you have a small grill, you could create a barrier from the coals by using a piece of pre-cut sheet metal to block the direct heat. A 12″x24″ piece can be found at most hardware stores.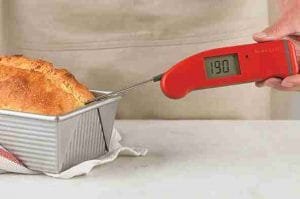 Check internal temperature with
digital thermometer
, such as a Thermapen MK4. Once internal temperature of 190 degrees is reached, place the pans on a wire rack to cool. Pour the cooled almond syrup over the babkas 1/4 cup at a time, dividing the syrup evenly. Let the babkas cool in the pans for about an hour, then using the parchment to lift out of the pans. Let cool completely on a wire rack. Wrap cooled loaves in foil and store on the counter. Babkas can be wrapped thoroughly and frozen.
(Thermapen photo courtesy King Arthur Flour)