Another holiday season is officially here and the Grillax chefs have again put together a 7 Best Gifts for Grillmasters in 2020 gift guide for your Grillmaster.
Enjoy your time with family and friends with great food off the grill, and give the gifts to make your Grillmaster very happy.
The engineers at Thermoworks created the ultimate heat measuring device in 2018 with Signals. Now, with the newly released Billows device, controlling that heat has never been easier.
With a Billows fan, cook perfect, succulent BBQ meats over the course of many hours without having to worry about flareups, burn-outs, vent adjustments, or tending the coals.
The Signals multi-channel digital thermometer unit is amazing. Designed for competition BBQ teams, professional chefs, and those who want to cook like them, Signals with built-in Wi-Fi and Bluetooth has four channels of continuous temperature monitoring.
Signals comes with both Bluetooth and Wi-Fi onboard, seamlessly switching between the two, so you get a continuous signal and real-time alerts whether you're in a field or across town.
Setup is quick and easy without ever needing to read the instruction manual. These gadgets allow one to cook more at once and worry less about the results.
And that's a cool thing.
We like ours in Orange.
Modeled after the company's original design concept, the Le Grande is sure to live up to it's oversized name. This version of The Oyster Bed has 12 individual cooking wells and a great big reservoir to gather all the succulent juices and even cook larger pieces of food. (For example, when you start a 6 or 8oz filet on the grill next to The Oyster Bed, you can finish it in this reservoir for some "surf and turf!")

Indeed, with its large size and very light weight, The Le Grande Oyster Bed was built to impress, even in Grillax Nation!
---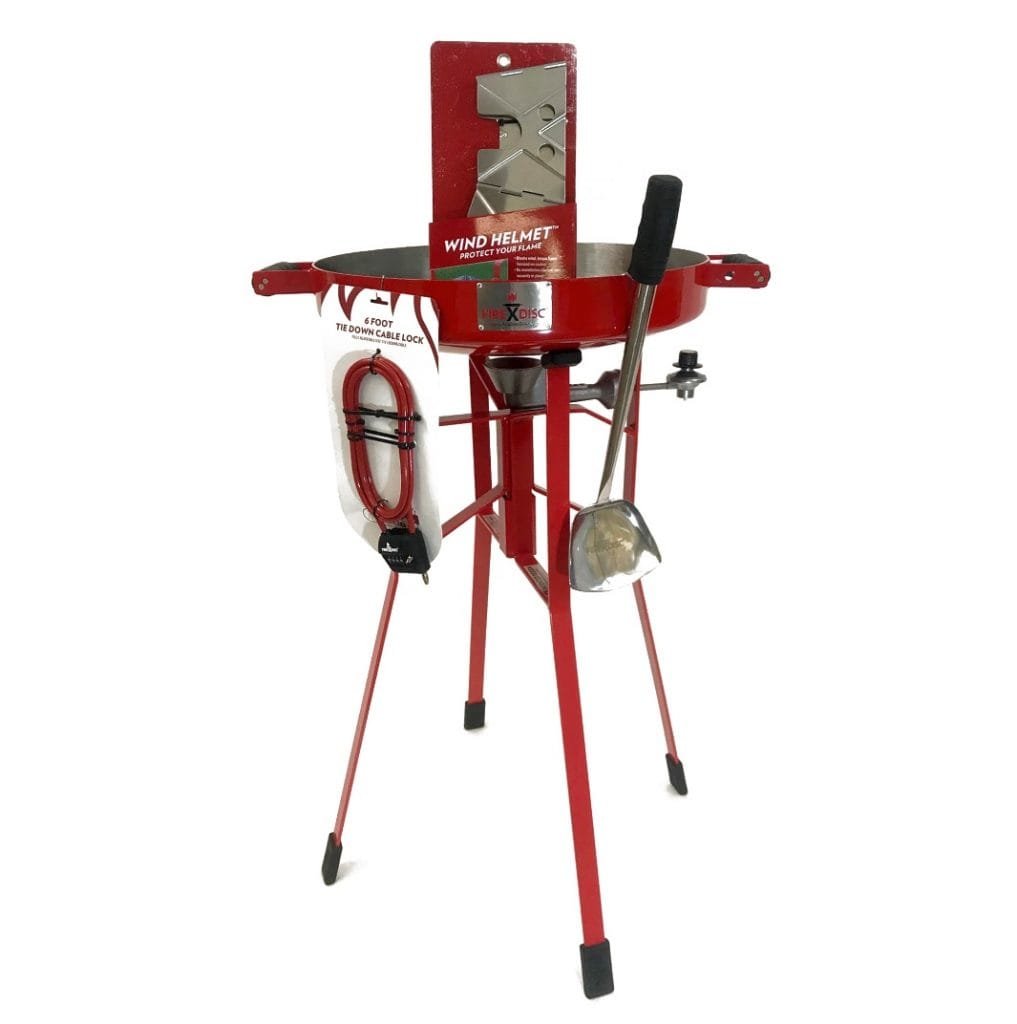 A revolutionary outdoor plow disc cooker, the FireDisc is a durable, lightweight, hassle-free propane grill that can be the highlight of your next outdoor adventure. The Backyard Bundle is perfect for weekend trips to cheer on your team and feed the masses. This bundle includes an original deep/tall cooker, ultimate cooking weapon (spatula), cable lock and wind helmet. It will be hard to make your Grillmaster stop smiling after opening this one. Check out the FireDisc in action.
Use code GRILLAX when you checkout for a 10 percent discount on your order.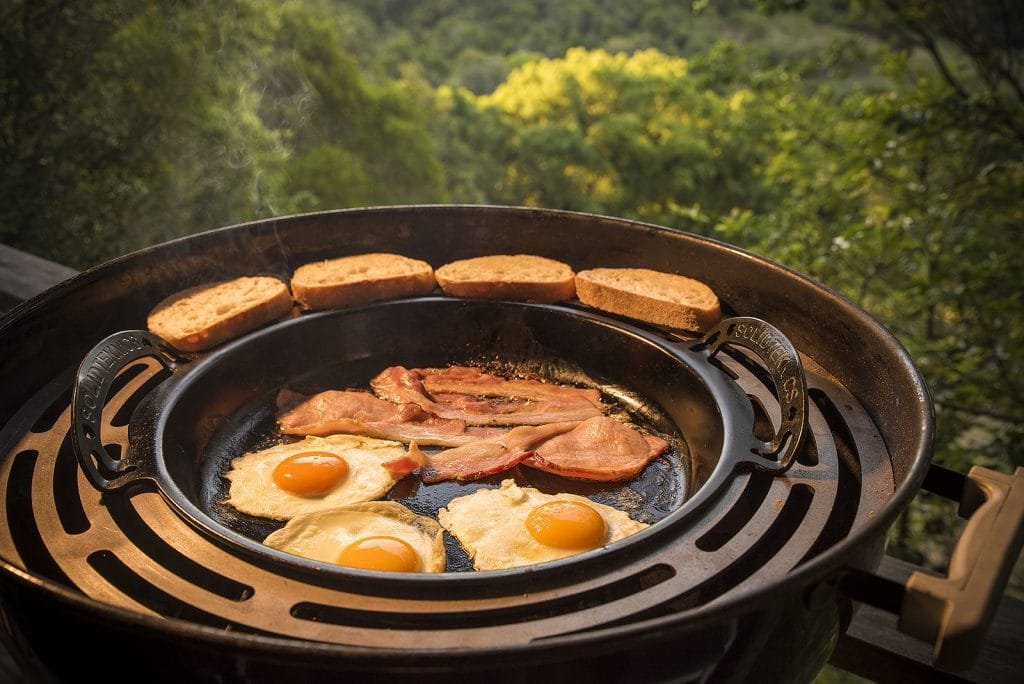 It didn't take long after unboxing the Solidteknics 10″ iron skillet that we were instantly hooked. Perfect for BBQs, outdoor grills, flame grills and camp cooking. These Flaming Skillets were initially developed for Neil Perry and his chefs at the acclaimed Rockpool restaurant in Sydney, Australia, who asked for an indestructible flame grilling pan. The original AUS-ION Flaming Skillets are legendary among chefs, BBQ teams and camp cooks for their combination of iron searing and flame taste, and their durability on open flame. It truly will become your most-used pan in your Grillax arsenal.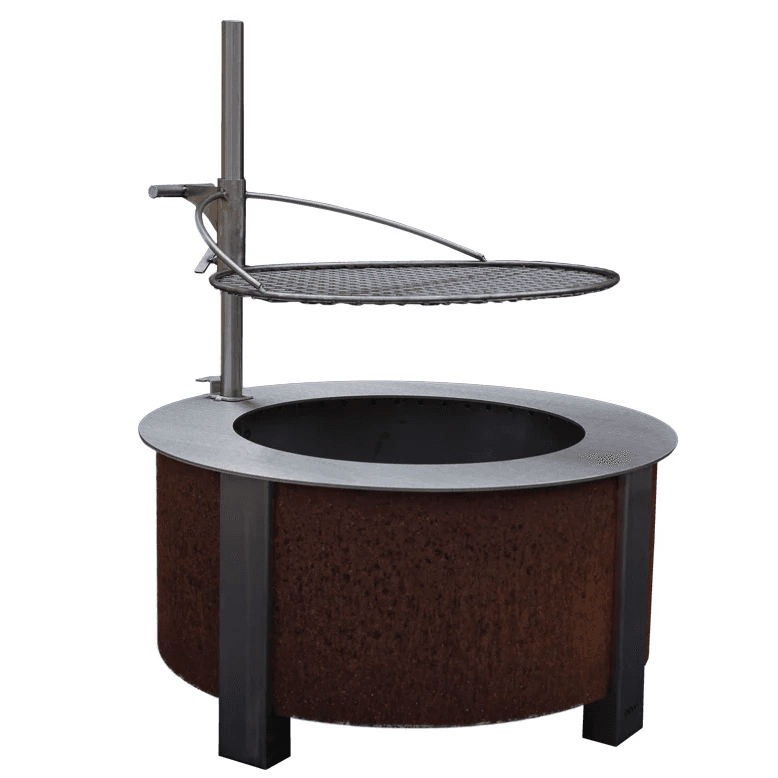 Our last selection in our gift guide is a fire pit from Breeo. Grilling on a Breeo Phoenix fire pit is a lot of fun. Grill — Fire Pit — Flat Top — it's all combined in this gem of a pit. The secondary combustion system creates an even cooking surface that is significantly hotter than a normal fire. This allows you to sear steaks at 1,600+ degrees, just like the pros. The grilling feature of the Phoenix fire pit is completely adjustable and easy to use. Simply slide a post into a sleeve, slip in the pin, and voila. Your fire pit is ready to grill. Adjust the height of the grill to cook depending on the amount of heat desired. We predict your neighbors will be envious of this cool cooking device.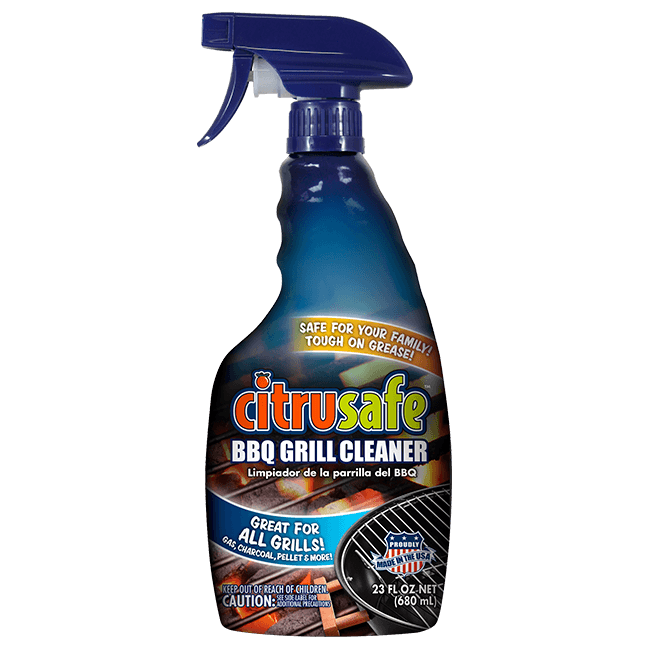 A clean grill is no joke when it comes to safely creating excellence off a grill or smoker. We found Citrusafe works very well on charred, grimy grates, as well as all other parts of a grill to keep it clean and free of that nasty stuff. Utilizing the power of citrus (d-Limonene), CitruSafe is specifically formulated to provide a simple, safe, yet powerful alternative to cleaning a BBQ grill's cooking surfaces. It's non-flammable, non-corrosive, non-toxic, biodegradable and phosphate-free.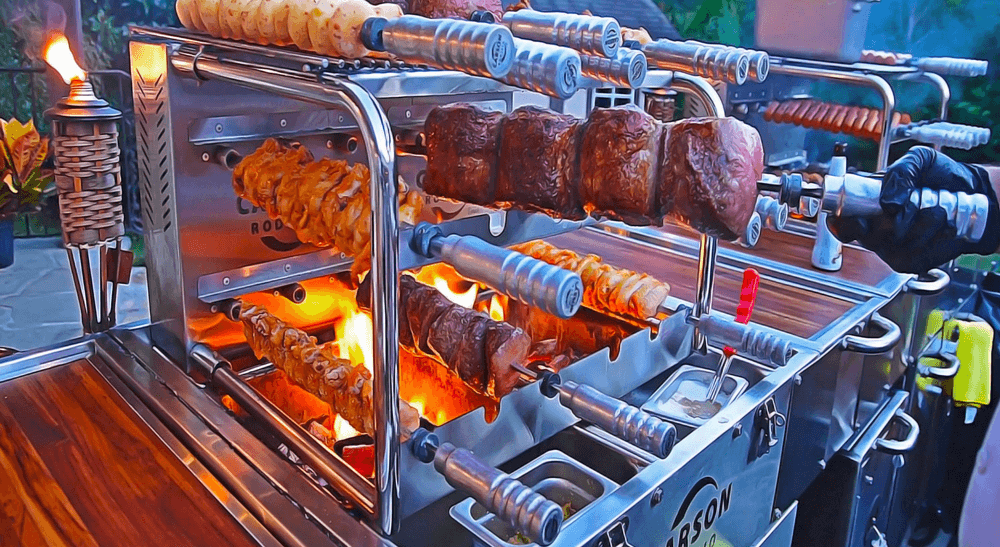 ---
The boisterous, positive attitude of Blake Carson, founder of Carson Rodizio, is addictive and evident in his creation, the Carson Rodizio Kit. The Kit is a multi-turbotisserie (his word) that converts your favorite conventional grill into an open and spinning Brazilian style steakhouse Churrascada. Now you finally can bring a Brazilian steakhouse home with you. And the expansion options are unlimited. Let the fun (and great grilling) begin!
---
Grilling Stocking Stuffers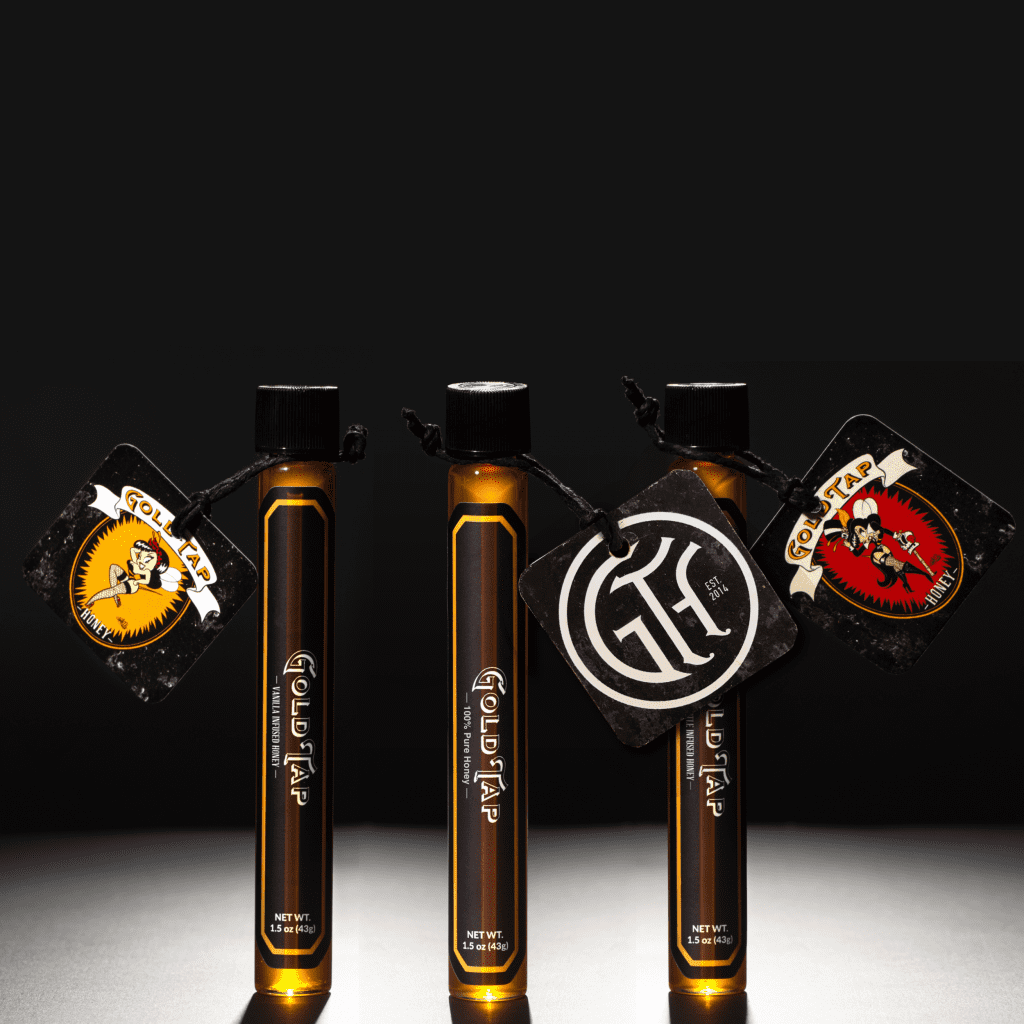 Made in Mississippi, Gold Tap Honey is a unique, flavorful raw honey that will catapult your next grill session or gameday cocktail. Gold Tap is 100 percent traceable to the source it was harvested, and created in small batches, so it's never mixed with other batches. But this isn't your Grandma's honey you used to put on your drop biscuits on Sunday … this stuff is in a class all it's own. The vanilla-infused honey is fabulous, but the chipotle-infused honey will honestly make you slap o'l Grandma, it's just that good. Put a little in your favorite cocktail for a new form of happiness. Use code GRILLAX when you checkout for a 10 percent discount on your order.
---
An industry-leading digital thermometer, the Thermoworks Thermapen MK4 is the perfect stocking stuffer in 2018. With full readings in only 2 to 3 seconds, the Thermapen can be held in any direction and the display (backlit illumination) automatically rotates right-side-up so you can read it in any position. No Grillmaster should be without the Mark IV Thermapen.
---
No matter where you grill, ultimately there will be some mess to clean up. Enter Tuffy Mats. The durable mats are manufactured using over 70 percent recycled rubber. They are safe to use with your upright grill-smoker-fryer-or kamado cooker whether it uses charcoal-wood pellets-gas or electricity as its heat source. Cleanup is easy because Tuffy Mats resist animal fats, fish oils, grease, sauces and marinades. With warm soap and water, one can bring the smooth rubber surface back to new. A ribbed bottom helps to prevent mold and mildew. This practical gift would be perfect for any Grillmaster.
---
The crew at Western Wood hooked us up with some review samples during Burger Month 2019 in May, and boy, did they impress. The flavor of Western Wood is clean and fresh. From chips ($) to chunks ($$) to mini logs ($$$$), there is a BBQ smoking solution to fit your next grill session. We loved the apple and cherry flavors with beef, chicken and pork, so it's a great all-around choice when smoking meats or veggies.
---
Rediscover the joy of the perfect cutting and slicing knife, flawlessly balanced and honed to a razor-sharp edge. Japanese steel cutting blades are stone-finished and taper ground for exceptional cutting power. Comfortable, in-control handles are bookended with full bolsters and end caps for long-lasting, on-point performance. Cutting through chicken or pork is no problem for these workhorse knives. Comfortable during prep, with easy cleaning (dishwasher safe).
---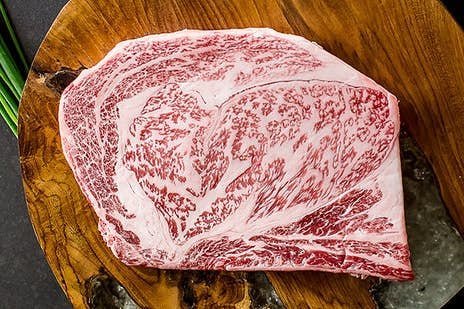 Frozen at peak freshness, Crowd Cow offers vacuum-sealed meat that is shipped in cutting-edge, biodegradable, recyclable packaging. From packing to shipping — Crowd Cow boasts a commitment to sustainability and minimizing industry waste. Backed by more than a 100 different farms, you're able to select from the best that Crowd Cow has to offer, from high-grade American beef to A5 Japanese Wagyu beef. The quality is there and absolutely no issues with fast delivery. The Wagyu burgers are phenomenal, especially paired with artisan bacon. Wowza! GET $25 OFF your first subscription with GRILLAX.
---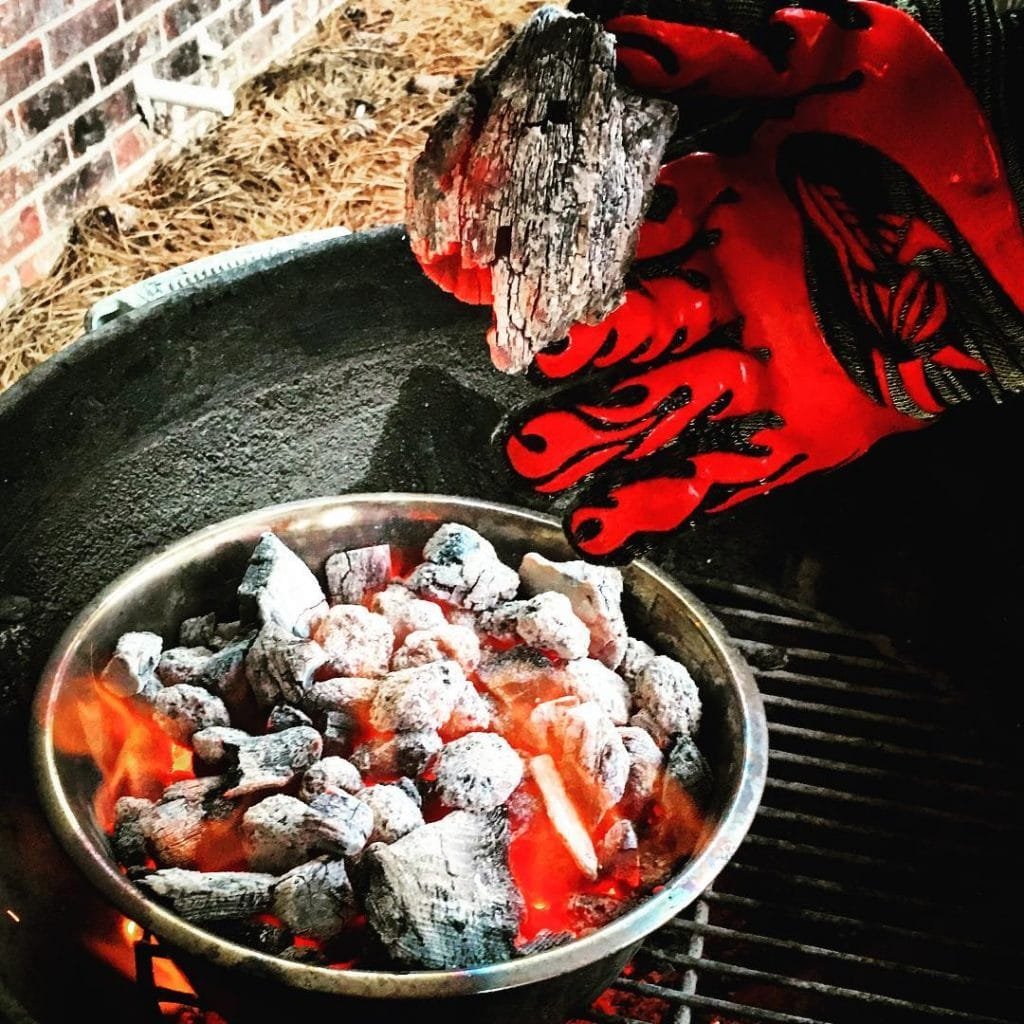 Cooks of all kinds need heat resistant gloves, and with Dragon Knuckle, Grillmasters get superior protection compared to oven mitts. Grillmasters are the main target of the manufacturers of Dragon Knuckle, because they live the grilling lifestyle. Have you ever picked up charcoal with your hands while grilling? Moved the ignited logs around in your fire pit with only your hands? It's possible, and fun!
---