Masterchef Whitney Miller is back, and this time she's taking over the tailgate!
This version of the Grilled Chicken Enchilada Stack will not only impress your guests, but you will #OwnTheTailgate.
Thanks, Whitney! (And Tervis)
Grilled Chicken Enchilada Stack
½ teaspoon olive oil
1 teaspoon chili powder
1 teaspoon ground cumin
1 teaspoon garlic powder
½ teaspoon onion powder
½ teaspoon fine sea salt
1/8 teaspoon ground cayenne
2 ½ cups shredded grilled chicken breast
1 cup chicken stock
12 (6-inch) white corn tortillas
¾ cup shredded sharp cheddar cheese
¾ cup shredded pepper jack cheese
1 ½ cups enchilada sauce
Garnish: ¼ cup cilantro leaves, ½ cup cubed avocado, 1 tablespoon thinly sliced jalapeno
Preheat your grill to 350 degrees. Coat a large cast iron skillet with the olive oil.
Combine the chili powder, ground cumin, garlic powder, onion powder, salt and cayenne in a medium bowl. Add the shredded chicken and toss to coat.
Heat the chicken stock in a saucepan over medium heat.
Working with one tortilla at a time, dip in the warmed stock and then place in the skillet. Repeat with three more tortillas to cover the bottom. Top the tortillas with half of the seasoned shredded chicken. Sprinkle ¼ cup cheddar cheese and ¼ cup pepper jack cheese over the chicken. Repeat the process with 4 more tortillas. Top with the rest of the chicken. Sprinkle ¼ cup cheddar cheese and ¼ cup pepper jack cheese over the chicken. Repeat the process with the additional tortillas.
Cover with aluminum foil and bake or grill for 15 minutes. Uncover and spread the enchilada sauce over the top. Sprinkle on the remaining cheese. Bake or grill for an additional 5 minutes or until the cheese has melted.
Serve warm and garnish with the cilantro, cubed avocado and jalapeno slices.
Serves 6 to 8.
About Whitney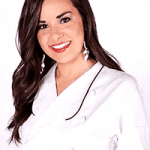 Inspired by the hospitality of her 97 year-old great-grandmother and creativity of her mother, Whitney Miller's passion for the art of cooking began at an early age. At twenty two, she won the show "Masterchef," gaining the title of Fox Networks first Masterchef from the U.S. Whitney is the author of the cookbook "Modern Hospitality: Simple Recipes with Southern Charm," with foreword by Gordon Ramsay, and is currently working on her second cookbook. She obtained her bachelor's degree, with an emphasis in nutrition, from The University of Southern Mississippi. Visit her web site, whitneymiller.net 
Originally posted 2014-09-20 15:57:37.